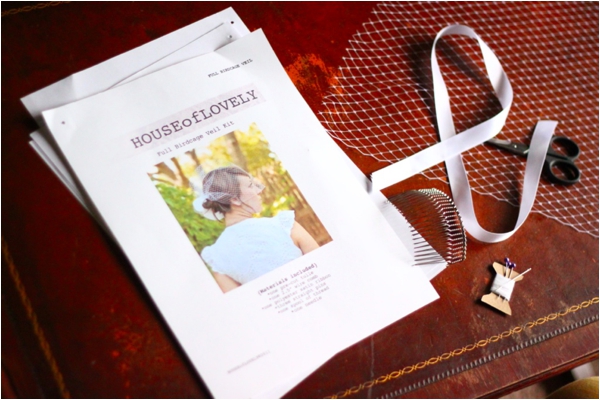 DIY birdcage veil–by Lauren Samuels, HOUSE of LOVELY
The hardest thing to understand when considering making your own birdcage veil kit is how the measurements of the veil correspond with your head and how that will look. These veil kits start out as a FULL size birdcage veil- so there is always room for alterations! The height of the veil is determined by the distance from where you want the comb to be placed to where you want the veil to stop. The width of the veil depends on the measurement around your head and how tight you would like it to fit. If you see that the measurements of the veil are larger than you'd like, then you can easily trim off excess!


Once the measurements are set, go ahead and thread your needle. Tie a thread knot around the corner of one end of the veil and continue threading the little square boxes along the CUT EDGE.

Once you have threaded all along the arch of the veil it should start to look like an actual birdcage veil! Go ahead and put that aside while we prepare the comb!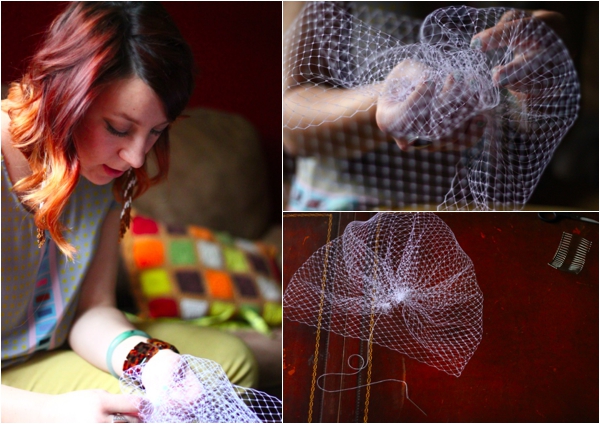 If the ribbon does not have a clean edge, re-cut it. To harden the edges of the ribbon, we will hold it CLOSE (not IN) to a flame. This is easiest done with a candle rather than a lighter. This can only be done with a polyester ribbon because of how the fibers react! Once the first edge has been melted, slide it through the comb as shown- going through each tooth to create a couture finish!



Once you are at the end of the comb, go ahead and snip off the end of the ribbon- leaving about 1/2" to melt and sew down!


Once the comb is totally finished, it is time to attach the comb to the veil. Place the comb (arch down) on top of the veil. Pin down the veil through the ribbon of the comb to assist in the handling. Sew through the veil from one side to the other by catching the ribbon all along the way. Once you are finished- tie a knot and cut off the excess veiling.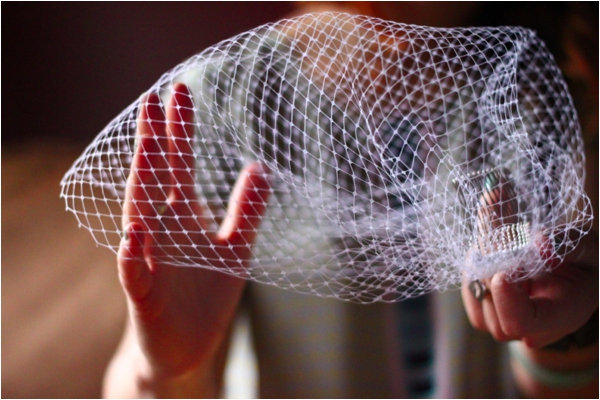 like their Facebook page here:
Thanks for stopping by,