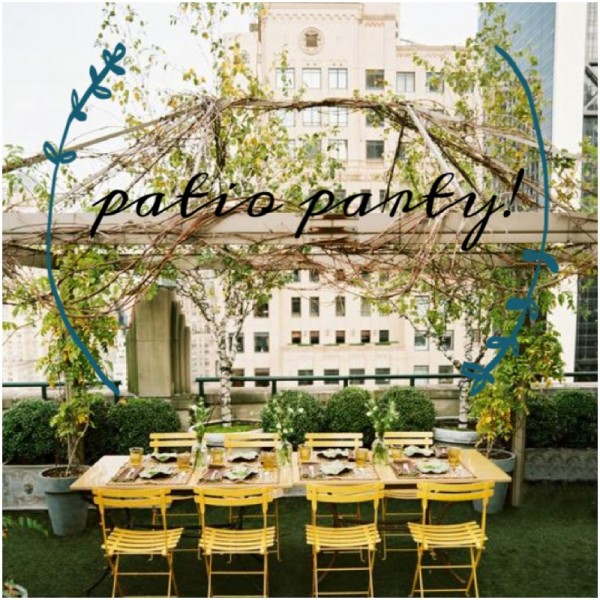 During this time of the summer many Angelenos are off on summer vacations, and the ambience of the city shifts. All of sudden everything is just quieter, slower, calmer.   Crowds are smaller, waits are shorter, and life just seems more enjoyable.  Even the initial summer gridlock created by the influx of tourists and beach-goers has dissipated. I relish this part of the year here and enjoy it, knowing that it is only temporary.  The leisurely feeling in the larger environs inspires the same at home. These warm summer evenings beg for small get-togethers, simple food, and a just a hint of a breeze.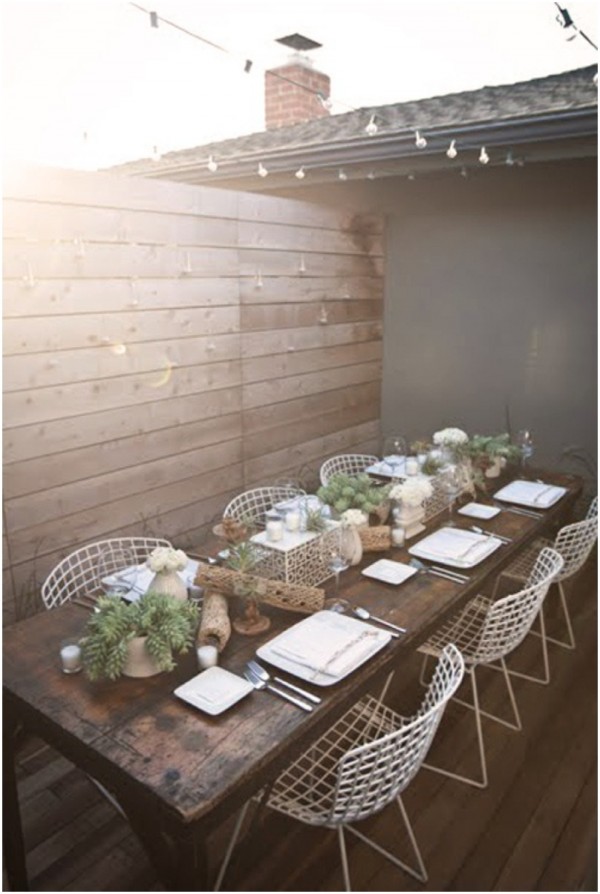 The setting sun filters in over the top of a wood-paneled wall into this cozy outdoor space.  Succulents always make an impact with incredible ease, and here mix nicely with simple bunches of ivory roses packed tightly together.  The decorative wire risers call back to the Bertoia chairs.  The long table and delicate frames of the chairs are ideal to make a small patio a functional entertaining area.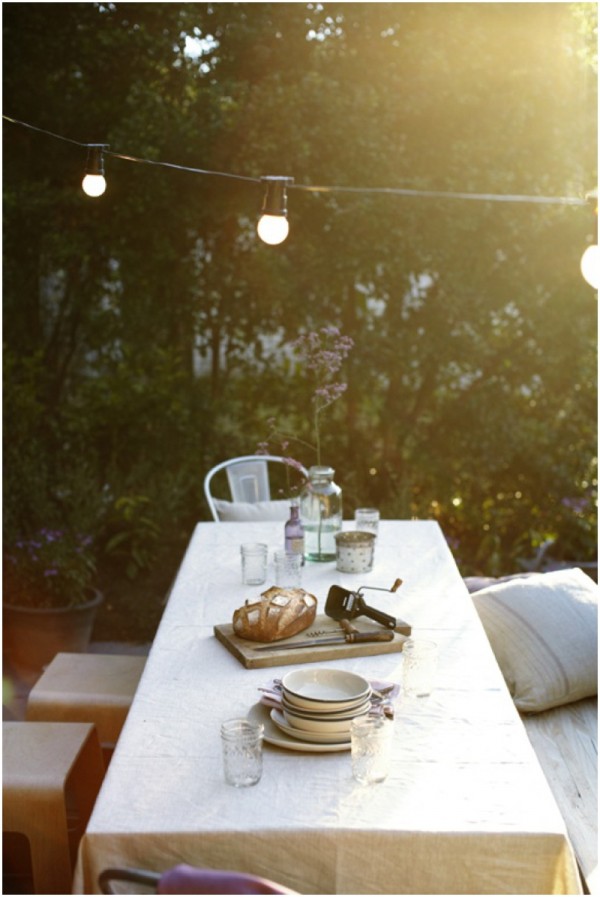 There is much less effort put into this table setting, but it is still incredibly inviting. The loaf of bread alone is enough to want to be a guest at this table.  With the bowls and cheese grater, it appears a pasta dish may be on the menu. Simple and informal, this looks like a fantastic evening!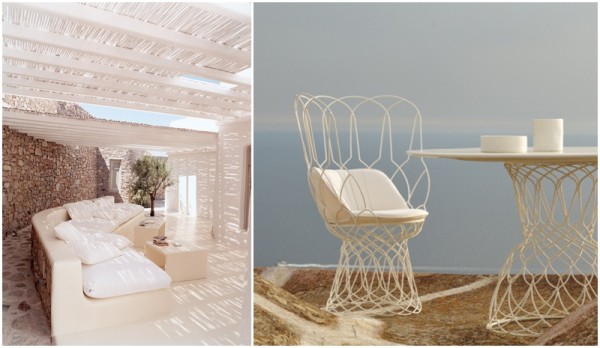 This incredible built-in sofa creates ample seating for company in this simple, but stunning patio. Evening drinks could easily give way to a full-on dance party with the right lighting and music in this covered enclave. While this Patricia Urquiola patio set is visually stunning and the perfect size or a party for two. Sculptural and whimsical, the carefully patterned bent metal pays homage to many patio entertaining sets of the past.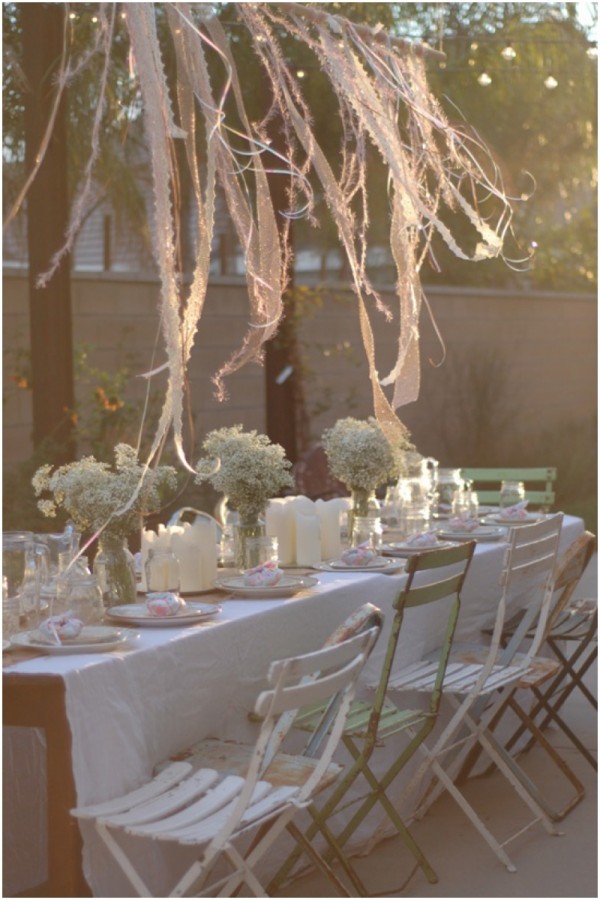 Vintage bistro chairs, fabric accents and bunches of baby's breath keep this table light, casual and summery. Strings of cafe lights and pillar candles are at the ready when the finally goes down.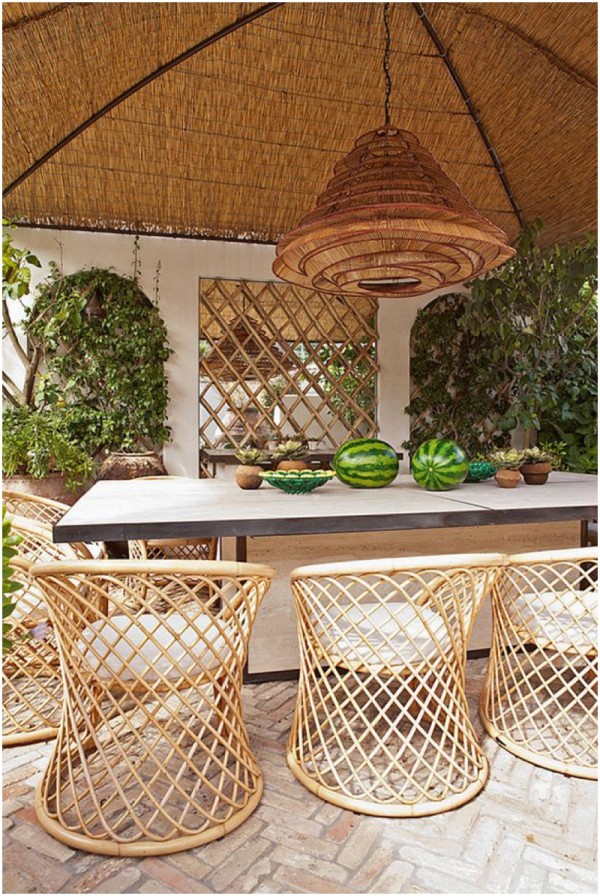 Nothing says quintessential summer patio set like rattan in this patio on Capri. Seating for 8 and an adjoining patio just below are a perfect summer entertaining spot.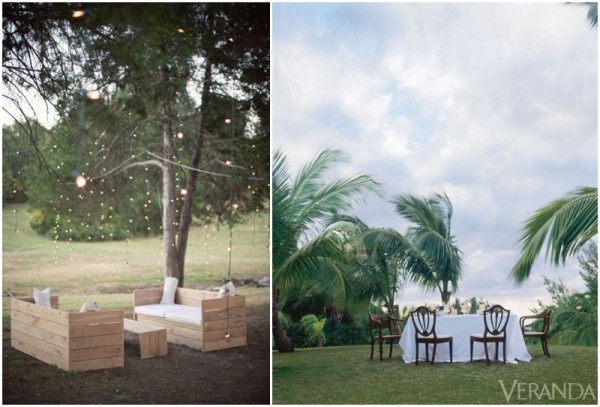 Hanging strands of white lights add some evening magic to this backyard seating area.  Facing love seats and narrow table call for a double-date, drinks and snacks. Imagine these turned 90 degrees facing a large white sheet suspended between two trees – instant theater for an outdoor movie screening! And for those of us with island plantations, dark-wood British colonial furniture, white table cloth, large glass hurricanes and pineapples really do work well with the surrounding palms for an evening dinner!  This is really so beautiful, elegant and understated, and for anyone who is a fan of of  South Pacific, you might also be envisioning Emile de Becque and Nellie Forbush eating breakfast in island paradise.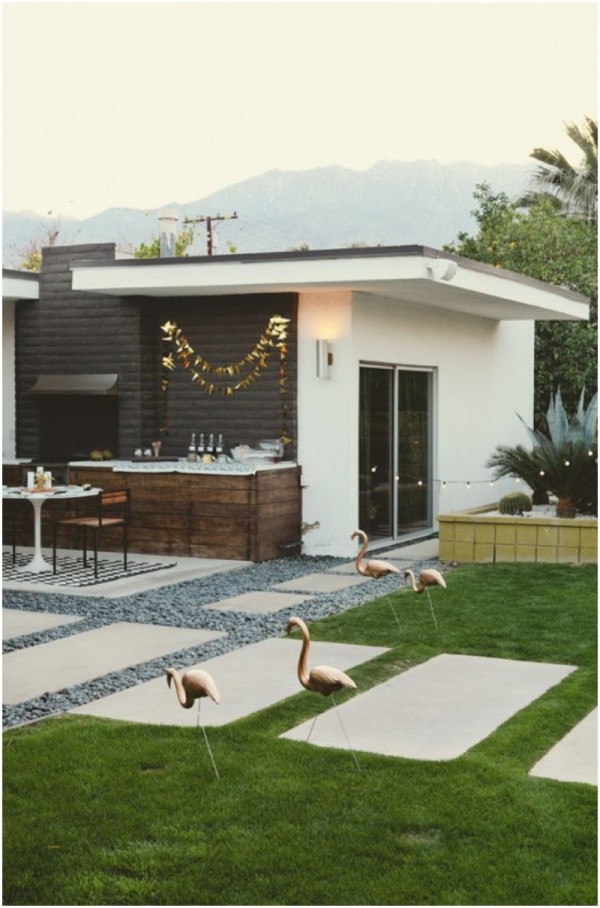 Nothing says party like golden lawn flamingoes!  The backyard of this Palm Springs private residence sports an amazing entertaining set-up, complete with built-in bar. The low planter could also be used for some additional seating in a pinch.  Many mid-century ranch-style home like this have open floor plans and lots of flow inside and out, making them ideal for parties!
Cheers!
Sources: Casa Haus // Sparkle Meets Pop // Toby Scott // Dust Jacket // Voltex // Cakies // D Pages // Veranda // 100 Layer Cake