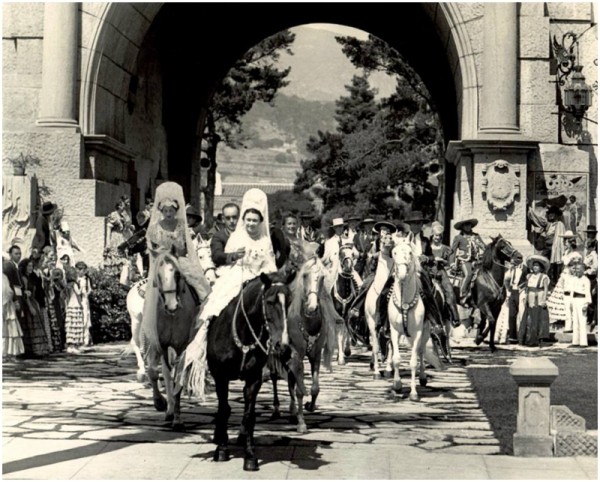 FIESTA, 1945. SANTA BARBARA COUNTY COURTHOUSE
Every year during the first week of August, Santa Barbara, my hometown, honors it's Spanish heritage with a city-wide celebration called Old Spanish Days – Fiesta for short.  Lasting from Wednesday through Sunday there are events every day – street markets, flamenco dancing, live music, and the Friday parade. The streets are littered with confetti and glitter from crushed cascarones. Many Santa Barbarans don traditional Spanish garb. Tequila is flowing, churros and frying and mariachis are playing all over town.  Flamenco and folklorico dancing can be found on the steps of the Old Mission on the first day of fiesta, La Fiesta Pequena, and on the following nights in the Sunken Garden at the Santa Barbara Courthouse during "Noches de Ronda" performances. The Friday parade, El Desfile Historico is one of the largest equestrian parades in the country. I have many memories as a child watching the parade from my mom's office balcony, my friends and I crushing cascarones over unsuspecting pedestrians below.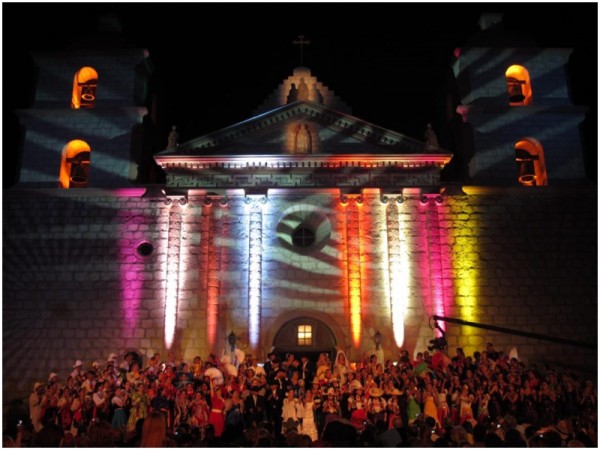 DANCERS AT THE COURTHOUSE FOR NOCHES DE RONDA
While all of the city-wide festivities take place, many people also throw their own Fiesta bashes. The last couple of years, work has sadly kept me away from my cousin's incomparable Fiesta party. She does not spare any detail, always with beautiful decor, amazing food and a very serious margarita and salsa competition. Margarita contestants stand behind the bars serving up their best recipes, while volunteers pass numbered cups around with samples for judging. Contestants are eliminated in rounds, and prizes are awarded at the end of the evening.  No need to get super-fancy, the same gal one 4 years in a row and has been barred from competing with her beergarita, the main ingredients being frozen lime concentrate and a Corona. Sometimes the simplest things are just the best.
Here is a little inspiration for throwing your own Fiesta party…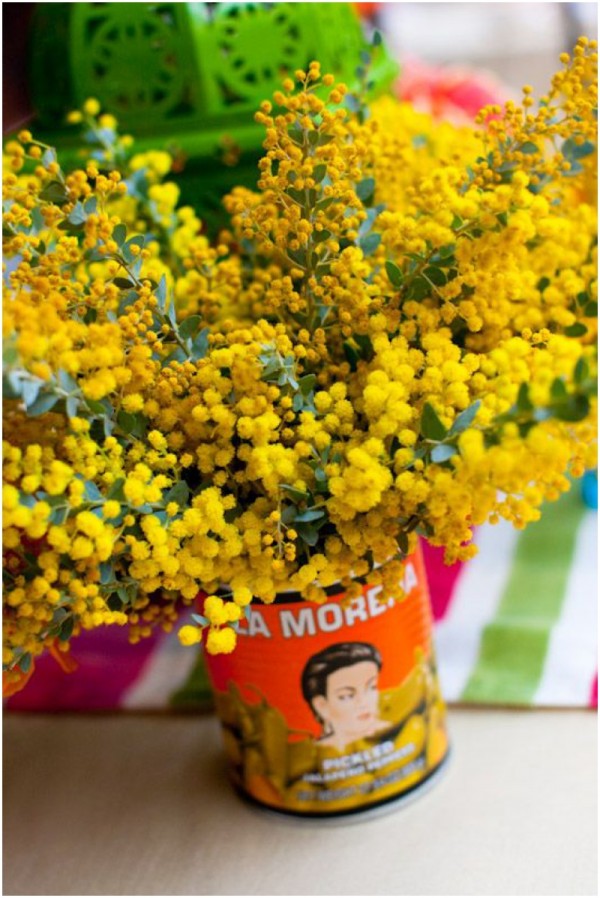 Any brightly colored flowers bunched into Mexican food cans are a simple decor solution.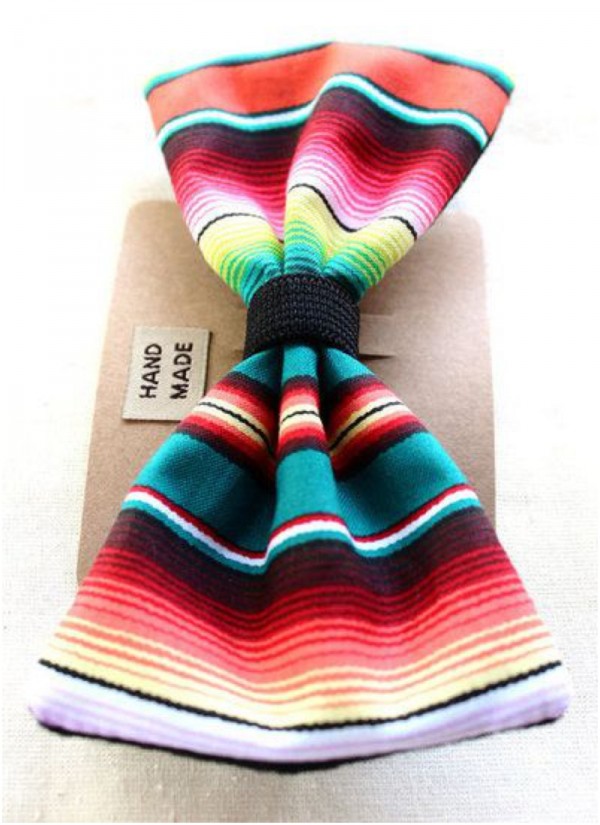 This hand-made sarape bow would be a festive touch on place settings or favor boxes.

Cascarones are a must, they are a little messy, but provide a lot of entertainment.  You might want to plan a baking marathon around making cascarones, so you can use all of the egg!  Simply tap the top of an egg and peel back a small opening.  Empty out the white and yolk. Thoroughly rinse the shells and let them dry, opening side down, overnight.  Fill the eggs with confetti and decoupage a small piece of colored tissue over the top. Proceed to decorate however you want!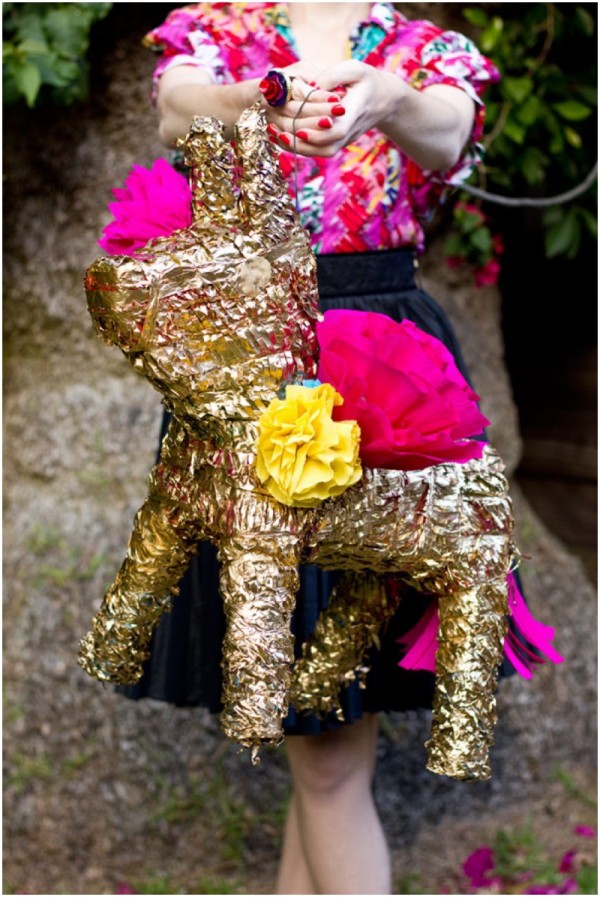 No fiesta would be complete without a pinata!  They come in many shapes and sizes, but the traditional burro is my favorite.  This one has been glammed-out with gold paint and paper flowers. The how-to is linked below!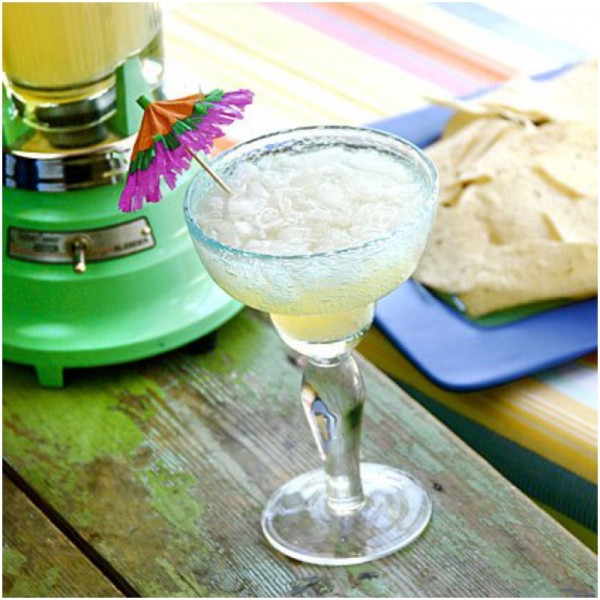 The crowd-pleasing beergarita:
1 can frozen limeade concentrate
1 limeade can full of silver tequila
1 can of 7up or Sprite
1 can light beer
juice of one lime
1/4 of limeade can or less of triple sec
Combine all ingredients in a large pitcher and serve over ice!
Encourage your friends to get creative in the kitchen with unique salsa recipes. Making salsa could also be combined into the party – provide many different chopped ingredients for guests to mix their own salsas on the spot!  Enchiladas and tamales are great for a crowd. Large batches of enchiladas are easy to make, and while tamales are complicated, I'd suggest going straight to the source and checking a local Mexican market.
For dessert, churros would definitely be my top pick.  When I was growing up, Fiesta was pretty much the only time I could ever get a churro.  I looked forward to that like nothing else!  Then we got a Costco… Like tamales, churros can be a bit inconvenient to make, so if you have a Costco, a great shortcut would be to buy several churros at the food court, chop them into bite size portions, reheat them shortly before eating, and serve with melted chocolate for dipping!
Viva la Fiesta!!!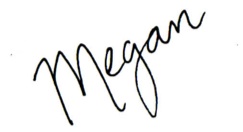 Sources: Old Spanish Days Fiesta Album // Style Me Pretty // Pop Sugar // Intelligent Travel // Studio DIY